Are you a Windows Mobile Addict? (Poll Results)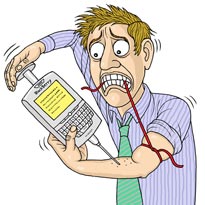 OK, so it's been around a week since we published the weekend quiz: "Are you a Windows Mobile Addict?".
(If you didn't have the chance to fill it yet - click here!)
Many people did the quiz, and hopefully voted.
Let's see - are we all Windows Mobile Addicts?
According to the results, 45% of us are! 40% are probably not, where as 14% probably got here by accident...
Let's analyze the results:
For 1% of the people, purchasing that PocketPC (this is probably how they call it...) was just like buying those great saucony running shoes: they used them twice, and then put them in your closet.
Not even close to being addicts.
13% of the votes belong to people who don't like their WinMo phone too much or maybe they are just too newbies to know what's good for them...
40% of the people who voted really like their WinMo phone!

They find it useful, they use it to perform many functions and at the same time it gives them a nice occupation.
Still, not sure they are real addicts. They know their way around, they are power users, but can we really trust them not to dump their WinMo phone for a Blackberry Bold?
Unfortunately for us, they are the biggest group according to the votes...
39% of the votes belong to people which are indeed addicted to their Windows Mobile phone. They use it all day long, it is considered to be their best friend, and they invest many hours tweaking it around, customizing it and optimizing it according to your needs.
If someone wakes them in the middle of the night, it's possible that the first thing they'll do is check their e-mails...
I belong to that group and so does many other blogger friends of ours.
We are all proud to be Windows Mobile Addicts. Unfortunately this group only finished second...
Finally, 6% of the votes (21 real people!) belong to seriously bizarre people, that carry a bag full of Windows Mobile devices explaining "each one has its' purpose", when in fact, they love them so much they are giving them nick names! 
Those are heavily addicted users, that should belong to the WinMoholic Anonymous!
Being addicted is an understatement for them and I can only wish I had enough money to waste it all on gadgets like they do!
That's it.
Thank you all for voting! See you in the next weekend quiz!
As usual, comments are more than welcome!